Miss S supported us with 3 tickets

Mr C supported us with 1 ticket

Ms B supported us with 5 tickets

Mrs M supported us with 1 ticket

Mrs F supported us with 1 ticket

Mrs W supported us with 2 tickets
---
4d 0h 11m

28 May 2022
---
Winner! Mx S (NOTTINGHAM)

Won £25.00!

Winner! Mrs W (Nottingham)

Won £25.00!

Winner! Mr B (Nottingham)

Won 3 extra tickets!

Winner! Ms F (NOTTINGHAM)

Won 3 extra tickets!

Winner! Ms W (NOTTINGHAM)

Won 3 extra tickets!

Winner! Mr P (Nottingham)

Won 3 extra tickets!

Winner! Mrs B (NOTTINGHAM)

Won 3 extra tickets!

Winner! Mr D (NOTTINGHAM)

Won 3 extra tickets!
About us
New Beginnings Art Group is a community group for those unable to continue working due to ill health. It's a group where physical or mental health problems are not a barrier. We just concentrate on the theraputic benefits that art brings and enjoy each other's company.
People in this situatuion may find themselves isolated, depressed and looking at financial insecurity. We provide a friendly accessible place where members can meet others with similar experiences and where they can enjoy painting. Members are of mixed abilities and encourage each other all the way. We employ visiting tutors to help guide us through our development and are continually advertising our presence to prospective new members through our web site www.newbeginningsart.co.uk and printed leaflets in appropriate locations.
We need your help to allow us to meet the ongoing costs of hiring a hall, employing tutors and maintaining advertising to prospective new members who could also benefit. it will also ensure that our members fees are kept at an affordable level.
Your support would also help us buy equipment for the group. Because of the lotto, we have recently been able to purchase a projector so that we can use digital tuorials to reduce the cost of tutors and also provide support towards the cost of a day visit to the Society for All Artists.
Please join the lotto today using the link below and not only will you have a chance of winning, but you will also be helping a community group providing a great support to an overlooked section of our community. As someone who has really benefitted from joining the group, I promise you that your support will be put to good use helping a wonderful group playing a small part in rebuilding shattered lives.
Thank you for reading our page and once again, please join the lotto. We all wish you the best of luck.
Greg Holowka
Fundraiser for New Beginnings Art Group
Help us share our cause on social media
How the lottery works
That's right, unlike many other lotteries, our lottery tickets are only £1 per week.
50% to your chosen cause and 10% to other causes in Broxtowe.
Match all 6 numbers and you win the JACKPOT!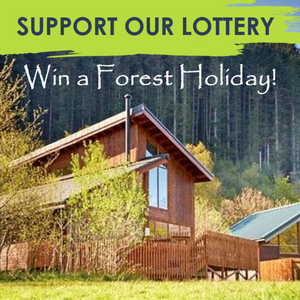 Win A £1000 Forest Holiday
Ever want to get away from it all? Well here's your chance - get your tickets before 25th June for your chance to win a fabulous Forest Holiday to the value of £1000! Choose from 12 different locations throughout the UK.